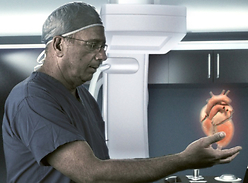 Today the company RealView undergoing clinical validation holographic imaging system for carrying out low-heart operations. All preoperative laboratory studies will be taken into account when creating holograms. Innovative Israeli technology will hit the market in 2015.
Revolution in surgery
During operations, the doctors will be able to use a 3D hologram bodies. To view them do not need a monitor or special glasses. The surgeon a three-dimensional touch the beating heart or the fetus inside the womb will be able to perform manipulations in the air.
Doctors will successfully make the planning of surgical intervention and to calculate the challenges of minimally invasive procedures.
Dual system technology
The technology includes two components. The first system takes 3D information after ultrasound, MRI, CT and other Hologram is created using overlapping beams of laser light.
After this three-dimensional image is formed in the second electro-optical system of the apparatus.
Simulation of surgical operations on the holographic body will provide an opportunity to improve existing methods of minimally invasive operations.