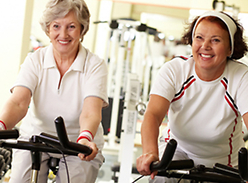 Research conducted at the Centers for Disease Control and Prevention (CDC) showed that 1 in 4 US adults aged 50 years or over do not take regular exercise.
Physical activity reduces the risk of developing serious chronic conditions such as heart disease, diabetes, and cancer. Moderate exercise allows the heart and blood circulatory system to function more efficiently.
It lowers blood pressure, whereby reducing strain on the heart, lowers cholesterol and helps maintain a healthy body weight.
Furthermore, exercise reduces stress by releasing feel-good hormones called endorphins. People who do not exercise are twice as likely to have a heart attack as those who engage in routine physical activity.
In fact, physical activity helps prevent or manage 4 of the 5 chronic conditions associated with the highest healthcare costs.
The benefits of routine moderate physical activity are well known, but levels of exercise often decrease with age. The CDC analyzed data from across the US to examine exercise patterns of adults aged 50 years and older in 2014.
They reported that 28% of Americans age ≥50 years do not engage in physical activity beyond that needed to undertake basic daily routines. This equates to 31 million Americans doubling their risk of having a heart attack.
Such inactivity was found to be slightly more common among women (29%) than in men (26%). Levels of activity also differed by ethnicity and age.
People of Hispanic origin were most likely to be inactive whereas non-Hispanic whites showed the lowest rates of inactivity. Among people aged 50–64 years, around a quarter were inactive. This increased to over a third among people aged 75 years or more.
Adults with at least one chronic disease were also more likely to be inactive than those without a chronic disease (32% versus 19%). Higher levels of educations were associated with higher levels of physical activity. Conversely, inactivity increased with increasing body weight.
Inactivity was most common in the Southern states and lowest in the West. In Arkansas the proportion of people who did not exercise approached 40%.
"This report helps us better understand and address differences in inactivity among adults 50 years and older…More work is needed to make it safer and easier for people of all ages and abilities to be physically active in their communities." Kathleen B Watson, PhD, CDC
Maintaining good levels of physical activity as we get older is invaluable for optimizing our health. In addition to protecting against chronic disease, it reduces the risk of falling and fracturing bones and improves mental health and cognitive function. Together, these benefits increase the duration of independent living in later life.
Source: CDC Press release. Kate Bass, BSc