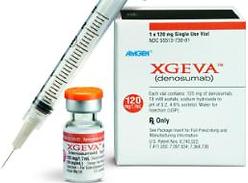 In the distant 1818 Cooper and Travers revealed hard to overcome the disease, and carried her to the group of sarcoma is the most frequent typology of bone cancer.
One of the previously insurmountable disease and its symptoms
Help everyone to know that experienced in this field doctors distinguish three main symptom of the disease, known as "benign giant cell tumor":
discomfort in a particular area;
the presence in this site of malignant neoplasms;
exposed disease limb cannot function properly.
Over time, you may also receive additional symptoms:
changing the shape of the perimeter or area in the site of the appearance of the tumor;
there may be a risk to flow off of the soft tissues;
if you carefully palpate the affected area, stands out tissue malignant neoplasms, which becomes stationary as that of the surrounding soft tissues.
Control and approval of the drug Denosumab
As it was announced – (FDA) / Department for food quality control and Lek.drugs, 13th June this year allowed the drug Denosumab for the treatment of mixed-age patients, if to remove the entire bone or to do a surgical resection is impractical and it is more risky, as it can further aggravate the disease.
After a long period of observation and testing for patients who at least once took the drug, and after numerous experiments in a clinical setting, which gave positive results, the drug Denosumab was approved. In the experiments involved patients with the actual disease "giant cell tumor of bone". 47 victims diagnosed with this disease, on average, were under observation for about twenty months, and 51% of patients were recommended the recovery of a duration of not less than 8 months. 3 people felt the progression of the disease after treatment.
How safe is the drug
Percentage security of medication was determined on the basis of the assessment of the status 304 persons with this diagnosis and at least once to taste the medicine. Of these patients, 145 people in control of doctor for not less than at least one year. Of course, without side effects, which are present even in the most innocuous medicines and can not do. Most often met such complaints patients: sore joints, headache, nausea, pain in your back, there is a sense of fatigue or aches and aches arm, leg.
Recommendations for taking the drug
The most effective dose and time to treatment with denosumab following: 120 mg under the skin for four consecutive weeks. Sometimes, of necessity, are again in the same amount once on day 8 and 15 of the first month.
Important! This information is not intended for diagnosis, prevention or treatment of any disease and is not a substitute for professional advice of a doctor. If You suffer from any disease, You should consult Your doctor or any other medical representative.