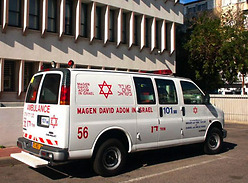 On the functioning of the emergency state subordination of Israel report by the Ministry of health. The summary included the work of 28 clinics.
Causes treatment
In 2013, the most frequently applied due to injury, infection by viruses, respiratory diseases, problems of the gastrointestinal tract. Among the 2.8 million visits to the emergency room turned three hundred thousand women before childbirth.
The reasons for treatment and the age of the patients, which were often addressed to doctors, divided into categories:
a) children under four years old, headaches, injuries and sprains, urinary tract infections, ear, skin diseases;
b) young people from age to 34 years – various forms of disease;
in patients over 65 years of chest pain, pathology, respiratory, stroke, infection of the urinary tract, bone fractures, dizziness, hypertension, inflammation of the lungs.
The dependence on time of year
In accordance with the weather conditions in different seasons patients emergency contact in specific areas of medicine.
In winter common were respiratory illness; autumn-winter – increasing pressure, arrhythmia, periods of warming and heat often dropped to treatment about infections and digestive disorders, appeared more often patients with injuries after the accident.
Statistics demand
According to statistics, male patients were more. In recent years the number of patients in public hospitals decreased.
The Ministry attributed this to the fact that they have access to more non-state emergency centers (tower and Bikur Rofe), where the care of patients with minor abnormalities cheaper.
Services MADA for the year used at least once 1.7 million patients. Among them 2/3 – only once; ¼ – 2-3 times; 7% – 4 or more times. In recent years, the performance has not changed.
Data on aid:
time help:
4% in one day;
18% during the month;
the peak period of the day:
from 10 to 14 hours;
from 18 to 20 hours;
visit days:
Friday morning;
Saturday evening;
Sunday.
According to the Ministry of health for emergency treatment in public hospitals, patients and private health centers in the direction of the doctor. Cases of medical emergencies up to 30% (10 years ago indicator 23%).