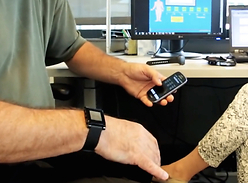 Receiving and processing of data on the condition of the person with Parkinson's disease are now possible through new mobile technologies. Research has engaged the Israeli division of Intel. This is a new stage in the development of methods for the treatment of Parkinson's disease.
Clinical trials
Data analysis is possible with the use of mobile apps a modern smartphone. Processing of the results captures 300 units of indicators per second from each patient.
To ensure the quality of work technology, trials are ongoing. The experiments are performed in U.S. hospitals, in clinics in tel Aviv. This year in the Netherlands scheduled testing methods on hundreds of patients, and in the United States will join more than a thousand people.
That will give a new technology?
Evidence from patients removed from such characteristics of Parkinson's disease:
the slowness of movement;
tremor;
features of sleep of the patient.
Taken into account the usual habits of the person, and their relationship to the disease process.
Unrestricted access to the patient using mobile technology allows you to measure quality indicators to capture patterns that will make new conclusions. Such accurate data was not before, because the patients themselves kept diaries and was to receive every few months.
Prospects
Israeli scientists have made useful discoveries, which will simplify the system for gathering data on Parkinson's disease, to make this process much more accurate. – Measurement of patients who are transferred to the physicians will be stored for further use in the study of the impact of the disease on the person.