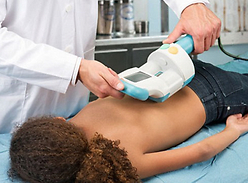 Israel will introduce new standards of spinal surgery. This will be possible thanks to innovative implants for arthroplasty, which are regulated without surgery with the help of remote control. This invention from the company Ellipse Technologies already used by European physicians.
The use of technology
New technology is used to bitoperating restoring the position of the spinal column in the warp, post-operative regulation of the spine for scoliosis (children aged 2-11 years of the study). Companionship helps to restore anatomic length of the legs, if you install a special implant and there is a mismatch between the size of the leg and thigh in one side.
The MAGEC system
MAGnetic Expansion Control is a system from the manufacturer, which works on magnetic control for the expansion of the implant. Now in the treatment of scoliosis to tighten the screws and straighten the rods is not necessary. And hence recurrent surgery is not carried out. Special magnetic device scans the implant, and the control panel adjusts the location of the rods. The procedure is performed without anesthesia in an outpatient setting. To make the adjustment necessary every three months within 1-2 years.
The benefits of such treatment:
non-invasive technology with a guarantee under the patent;
the lack of a long period of rehabilitation at the expense bitoperating adjustment rods;
adjustable in two directions to 48mm;
you can install one or two designs;
independent rods.
The installation process
Today in Israeli hospitals, surgery to correct the spine using designs from the rods is performed with maximum less traumatic way. The skin is dissected along the entire length of the implant, within three to six months is the adjustment of the length of the rod by means of a laparoscopy.
By means of the invention MAGEC, the whole procedure becomes more invasive. And after the correction and growth of the spine rods completely withdrawn.