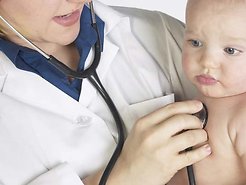 Children do not apply those approaches to diagnosis and treatment that are suitable for adults. Children differently arranged metabolism, a number of organs and systems continue their development and maturation. Therefore they are not suitable for all drugs, the results should also be interpreted with regard to age.
Diagnostics
A number of diseases and conditions typical for children only and requires a special approach and correction.
For conducting diagnostic tests in children using:
Ultrasound as the primary non-invasive and harmless method of obtaining information about the condition of internal organs.
Endoscopic techniques (EGD, bronchoscopy, and others).
Polysomnography.
Rectal and esophageal manometry.
Various tests for allergens.
Tests for chromosomal and genetic defects.
To reduce the emotional response of the child to a painful examination, may be the appropriate age local anesthesia or twilight sleep.
Treatment
You should consider the fact that the nervous system of a child is often not yet able to cope with the stress of being in the hospital, where we conduct a series of painful and frightening procedures. This feature is taken into account in a number of paediatric units. Order baby was comfortable, the design Department is more like a Playground. The nurses talking and playing with children, because younger patients have no fear of doctors and nurses.
In specialized children's departments have the opportunity to get any help. This can be both surgical and conservative treatment. Israel is now a large number of unique operations on the heart and blood vessels in the thoracic and abdominal cavities. Take on the operation of the children of any ages, from babies. Often the operation can be planned even before the birth of the child, if the ultrasound reveals a serious pathology of the fetus.
News and articles of medicine Israel