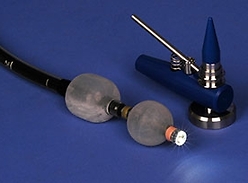 Developed new Double Balloon Enteroscopy (DBE), allowing accurate diagnosis of small intestine with anemia, polyps and small tumors. A revolutionary discovery in endoscopy allows to perform the inspection without surgery and with minimal discomfort for the patient.
Enteroscopy – method research
Enteroscopy is a new development that allows to receive the endoscopic image of the condition of the small intestine. Technology became the impetus for the development of new ways of decoding a received image, a more accurate inspection.
Efficiency studies using video capsular endoscopy and balloon enteroscopy confirmed by the positive results of therapy in
celiac disease;
bleeding in the stomach or intestines,
hypothetical localization of the small intestine;
intestinal diseases with inflammation;
biopsy;
Crohn's disease;
the removal of foreign bodies;
chronic diarrhea.
Revolutionary device
In medicine there were several options for the introduction of the endoscope:
endoscopy (pushing),
endoscopy probe,
endoscopy conductor.
Their functionality has not been perfect. For scientists, in collaboration with the Japanese Medical school Jichi this became the impetus for the invention of the device for detailed diagnostics of the intestine. The idea of a new way of introduction of the endoscope belongs to the Department of gastroenterology school of Jichi headed by Hironori Yamamoto.
Double Balloon Enteroscopy
Holding gastroscopy and colonoscopy is using a new device. Double Balloon Enteroscopy inflates/deflates on certain segments of the small intestine.
To get to the intestine, enter the tube in the rectum or through the esophagus. It is securely fixed by two air cylinders.
The air in the cylinders is forced considering the fact that the pressure level will then rise, then fall. It supports its stability. This system ensures the correct introduction of mini video cameras and other instruments. The procedure is performed under light anesthesia.
Inspection of inaccessible places with the camera allows you to accurate diagnoses. Therefore, a new method for diagnosis of bowel using Double Balloon Enteroscop widely used in clinics of Israel.