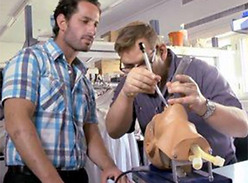 Students of the Hebrew University of Jerusalem presented to the world a new invention – a device for the introduction of anesthesia through the lungs with homing projectiles.
Intubation
During the operation, you must enter the anesthesia by means of a tube through the trachea. This process is called intubation.
Under normal introduction of the plastic tube is the probability of error, when the doctor will not be able to accurately determine the correct hole, leading into the lungs, not the stomach. The outcome of improper intubation can be lethal for the patient.
The specifics of the application
The use of a tube for the introduction of anesthesia may cause technical difficulties. Operation is influenced by the conditions of the operation. If assistance is needed urgently on the battlefield wounded soldier, there is a difficulty in determining the trachea due to bleeding in the lungs.
Operation without risk
New technology for intubation eliminates the risk of incorrect injection tube.
"GuideIN" – plastic tube for the introduction of anesthesia has the following properties:
passes into the lungs when any difficulties;
an infrared source for finding directions;
automatic detection of the respiratory tract;
the robotic mechanism.
The use of a special endotracheal tube during surgery reduces the risk of error to zero.