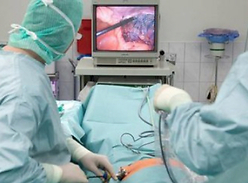 Laparoscopy is an innovative method in the field of surgery. Its essence lies in the fact that the operation is using the device – a laparoscope through small incisions in the body.
The laparoscope looks like a thin tube on the end of which is placed a lens system that transmits the image to the camera. Also, this surgical instrument is equipped with a halogen bulb, which allows to obtain images of good quality. The doctor performs surgery, focusing on the display monitor. That is, all surgical procedures using a laparoscope, reduce the risks in complex operations on the abdominal cavity and pelvis. This is especially true in the treatment of gynecological diseases.
The operation
The patient is doing General anesthesia, the abdomen is inflated with carbon dioxide – this allows you to separate the bodies from each other and create a review. Then through a small incision in the abdomen (sometimes at the navel) to introduce the laparoscope. Focusing on the monitor, the doctor does his work. The device transmits a high-precision image and it gives you the opportunity to notice the nuances, which in certain circumstances can hide from the human eye.
The rehabilitation period
Certainly, surgery is the procedure itself is unpleasant and stressful for the patient. Even delicate intervention using nanotechnology provides for certain rehabilitation period. Therefore, in the first few days surgery the patient is prescribed strict bed rest. Plus: can lie at home.
After-stitches – you can return to normal activity.
No large incisions and scars significantly shorten the period of rehabilitation.
The development of laparoscopy
Reducing risks during surgery topic is very important. The country with the most advanced medicine, using advanced technology is Israel. Just last year at the Jerusalem center Shaare Zedek bole was held two thousand operations by laparoscopy. This method has proven its effectiveness and investors have allocated more than 30 million. the development of this branch of surgery, as well as equipping new operating rooms.
In the future it is planned to abandon the cuts and to carry out surgery through punctures in the abdominal cavity – thus, the patient won't have scars. During the operation, always-on recording mode of the image, thus, surgeons have the opportunity to share experiences, to parse the nuances of the procedure, arrange consultations and conferences even in different parts of the world.
Advantages of the method:
The delicacy of the intervention.
No ugly scars.
Reduce the risk of bleeding and mortality during surgery.
To decrease risk of infection and suture line disruption.
Reducing the probability to prevent medical error.
Short rehabilitation period
As a method of surgery using a laparoscope rather innovative, the number of practitioners is limited, which naturally affects the price of the operation.