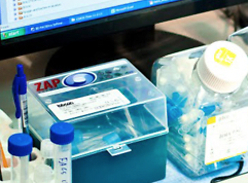 Stem cells – this is not fiction, and modern method of treatment to improve the patient's condition and to change the process of the disease.
Science does not stand still. And this, once again proved that Israeli scholars who have applied the latest technology in the field of medicine.
Sclerosis and stem cells
We are talking about the treatment of amyotrophic lateral sclerosis. Quite recently, Israeli Professor Michel revel, was offered a brand new method to cure this debilitating disease. For treatment, the developers of the technology used is nothing like stem cells.
How valid methodology?
Scientists noted that the use in the treatment of multiple sclerosis stem cells allows to:
to support the damaged neurons;
to slow down the course of the disease;
significantly improve the condition of the patient;
affect the life expectancy of the patient.
It should also be noted that previously held preclinical trials yielded some positive results. With the introduction of drugs to laboratory rats to support cells of the Central nervous system, there has been an improvement in their motor function and survivability. Based on these results, it is possible to prevent the transition to clinical trials in humans.
The production of stem cells
As assured the representatives of the company Кadimastem, production of stem cells to be working quite reliably. At the same time, new developments allow doctors to work with pluripotent stem cells of different biological origin. Based on industrial methods, scientists today are ready to produce them in large quantities, by focusing its efforts on the treatment of multiple sclerosis and diabetes.