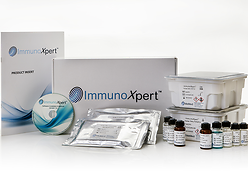 A company in Tirat Carmel that makes an innovative and accurate blood test that distinguishes between bacterial and viral infections – and thus significantly reduces the unnecessary use of antibiotics – has received a €2.3 million grant from the European Commission to improve and deploy it. The test is already being used successfully in Israel and leading European hospitals.
Taking antibiotics when you have only a viral infection causes dangerous resistance to antibiotics, making them less effective or ineffective against bacterial infections. The new blood tests were developed by the MeMed company, and the efficacy has been proven in a number of medical journals including PLoS One.
Researchers from the company and scientific institutes abroad tested some 1,000 patients and found that the ImmunoXpert blood test could separate immune responses to bacterial from those to viral infections. The developers say it takes only two hours to get results, when less-effective alternatives often take days. ImmunoXpert is based on the fact that viruses and bacteria stimulate different protein pathways when they infect the body.
MeMed CEO Dr. Eran Eden noted that the misuse and overuse of antibiotics is a major international problem. As antibiotics fight only bacteria, giving them to patients with viral infections is a waste of time and ammunition against pathogens.
The team is working on a portable device to make it easier to use.
Tests showed that the device can correctly detect a virus or a bacterial infection in the majority of patients. "It is not perfect and it does not replace a physician's judgment, but it is better than many of the routine tests used in practice today," Eden said.
Bacterial-induced host proteins such as procalcitonin, C-reactive protein (CRP) and Interleukin-6 are routinely used to support diagnosis of infection. "But their performance is negatively affected by inter-patient variability, including time from symptom onset, clinical syndrome, and pathogens. Our aim was to identify novel viral-induced host proteins that can complement bacterial-induced proteins to increase diagnostic accuracy," the researchers said.
"Initially, we conducted a bioinformatic screen to identify putative circulating host immune response proteins. The resulting 600 candidates were then quantitatively screened for diagnostic potential using blood samples from 1,002 prospectively recruited patients with suspected acute infectious disease and controls with no apparent infection. For each patient, three independent physicians assigned a diagnosis based on comprehensive clinical and laboratory investigation… The signature with the highest precision included both viral- and bacterial-induced proteins and was superior to any of the individual proteins.
The grant money from the European Commission will be used to further solidify clinical utility and cost effectiveness of ImmunoXpert. The two-year award was granted through the prestigious Horizon 2020 Fast Track to Innovation Pilot, which recognizes outstanding business innovators.
"We are excited by the continued vote of confidence of the European Commission," said Eden. "This award will allow us to strengthen our collaboration with clinical key opinion leaders and industry partners, with the goal of further solidifying the clinical utility and cost effectiveness of ImmunoXpert in reducing antibiotic misuse," he said.
"This award complements two previous highly competitive grants of over €9m.
received from the European Commission, including the 2015 Small and Medium- sized Enterprise instrument awarded to support the development of Immuno- PoC™, our second-generation product for rapid point-of-care testing," said Dr. Kfir Oved, CTO of MeMed.
The new grant will facilitate introduction of ImmunoXpert at additional leading medical centers, with the goal of monitoring the management of 1,200 children with respiratory tract infections or fever without source, in a collaboration between University of Milan, University Hospital Mannheim, Tecan, Quantify Research, and MeMed. In children, respiratory tract infections account for almost half of doctor visits and hospitalizations, with unexplained fever responsible for as much as 25% of pediatric emergency department visits.
Source: JUDY SIEGEL-ITZKOVICH, jpost.com