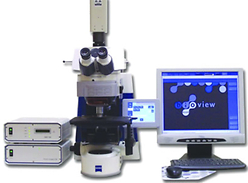 For patients with suspected lung cancer will soon become possible to detect the disease at an early stages of using a new non-invasive test. Joint invention of the Israeli company BioView and American laboratories already passes the test at the hospital, Sourasky tel Aviv and two other California hospitals.
Late diagnosis
One of the most common diseases in the world is lung cancer. There is the problem of late detection of this kind of illness. At risk are heavy smokers and people with problems in the lungs. The inability to detect the first signs of cancer problems in patients reduces their chances of recovery or life extension for several years. This was stated by the CEO of the company BioView Alan Schwebel. This led to the discovery of a new test for determining lung cancer.
For the dough take the sputum of the patient. Thanks ultrasensitive scanning microscope, the special means for processing the image received from BioView, plus fluorescent DNA probes (probes-FISH) to determine accurate results.
It works so:
taken blood, then highlighted the cells of the lungs and upper respiratory tract;
recognition of cells occurs through the use of fluorescent biological markers;
among the abnormal cells are detected by the luminous indicators that indicate lung cancer.
The benefits of the test
Risk group, especially smokers, are sent for examination using computed tomography. Thus it is planned to identify malignant tumors. But this does not guarantee the accurate diagnosis on the first try, when it comes to the early stages of the disease, even when it is impossible to do a biopsy.
For better response, the patient should repeat the procedure several times, succumbing to the body's constant exposure, which in turn can give rise to poor health.
With the opening of the new doctors to take a sample without irradiation and penetration into the lungs becomes real. This helps to save time, not expecting repeated studies. And after the analysis, it is clear that we need to do a biopsy immediately or have the time for additional tests.