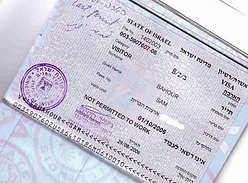 Planning a trip to the Promised land, you should know that from September 20, 2008 came into force the law on the abolition of visa regime between Russia and Israel. In this case, the entry on the territory of the country as a tourist is allowed for up to 180 days, and without a tourist visa, he cannot be more than 90 days.
What do you want to go on a trip?
The list of required documents:
passport (at the time of entry into the country, its validity should not be less than 6 months)
tickets;
medical insurance policy for the provision of services abroad for the duration of the intended visit;
the confirmation of the hotel reservation;
documents confirming the solvency (Bank statement, cash, traveller's cheques).
For those wishing to travel to visit:
Need the same list of documents, but instead of booking rooms in the hotel, you need an invitation in the form of the original, Fax, or e-mail, as well as a photocopy of the identity card of a citizen of Israel (referrer).
For those who travel to Israel for medical treatment:
The same documents as for tourists, plus a letter from the Israeli hospital where you are going. It can be useful if the treatment will need less than 90 days. Otherwise, you must contact the Embassy in order to solve this issue.
For a conversation with the border guard service may need documents that will confirm your ability to pay. It can be cash, checks, traveler's money, Bank statement or credit card.
For those wishing to travel:
If you are not going to get a job in Israel, and want to negotiate for example to address issues of joint business, then your trip can be attributed to the category of business travel. Visa in this case, you do not need. You can safely go to the airport and see you in the land of Israel.
Customs regulations for entry into Israel
Now, with regard to customs. If you are after a visit to Israel, travel to neighboring countries, you have to pay so-called " exit fee. He is 24 dollars, but paid in shekels. The exception is Jordan. Exit on its territory is estimated at 41 dollar. From tax free for children up to 2 years.
It is also necessary to mention the so-called "red" and "green" corridors present in the airports of the country. The green corridor is used, as a rule, those who do not have a subject in need of Declaration.
These include Antiques, date of manufacture which are over 1700 from R. H. the import of such rarities of the country is only allowed to negotiate with Management Antiquities. Plus, you have to pay 10% "antique sales tax", calculated based on the value of the subject.
No fees may import up to 1 litre of spirits, 2 liters of wine and spirits to 250 milliliters. You can also bring in 250 g of tobacco products. As for gifts, then their total value does not exceed $ 200. Shall be exempt from tax also cameras and tape recorders, musical instruments, and baby strollers, sports equipment and travel toiletries.
For some objects and things, it is possible to pay the so-called "reflexive" tax. It is called that because when compliance with all laws of Israel, when leaving the country, is returned to You in full.
It should be emphasized that going to Israel, you need not to advertise their contacts with the Arab world. If You find something that falls under this category, whether it be magazines, products or goods manufactured in the UAE, you may have many questions, and your entry may be cancelled.
The Embassy and Consulate of Israel in Moscow
Moscow,119017, str. Bolshaya Ordynka 56
Phone: (495) 660-27-00
Fax:(495) 660-27-68
Attention!
The documents submitted to the Embassy by e-mail will not be considered.
Office hours of the consular section:
From Monday to Friday from 9:00 to 12:00
The consular Department phone: (495) 660-27-00 (785,790,791)
Phone repatriation Department: (499) 238-58-41, (499) 238-15-63, (499) 238-96-16
Consulate General of Israel in St. Petersburg
191180, St. Petersburg, P.O.Box 28
Tel: (812) 4060500
Fax: (812) 4060555
info@spb.mfa.gov.il
At the Consulate reception is not conducted.