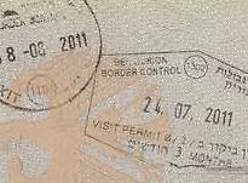 Ukrainian citizens who plan to visit the Country Promised, you should know that on February 9, 2011, entered into force the law on visa-free entry (type B2 visas) between Israel and Ukraine. Now you don't go to the Embassy, regardless of if you are coming to Israel for treatment, for tourism or business trip.
To stay in the country without visas for half a year, not more than 90 days.
However, a visa-free regime does not guarantee 100% of the entry into Israel. The last word remains with the decision of the border service. Any citizen of Ukraine in order to enter the territory of the country, should be required to confirm the purpose of their visit.
The list of documents required:
passport (expiry date not less than 6 months.)
tickets (including reverse);
medical insurance policy;
hotel reservations;
documents confirming the solvency (Bank statement, cash
money, traveller's cheques).
For those who goes for a visit:
Will need the same documents, and instead of armour at the prompt:
original;
Fax;
copy;
e-mail;
the ID of the inviter.
When meeting with the border guards may also have documents that can prove your creditworthiness. This can be a Bank statement, credit card, cash, traveler's checks.
For those who go for treatment:
As an addition to all the documents mentioned previously, you must have a letter from the Israeli hospital where you are going, as well as help from the Ukrainian doctors. This is necessary if the treatment you will need less than 90 days. When meeting with the border guards may need evidence of your pay. (credit card, information about your monthly income, checks).
For business trips:
If you do not intend to work in Israel, and eat in order to conduct negotiations with business partners, then your trip is considered a "business trip". In this case, the visa you do not need. If it is a short trip, then at himself recommended to have a hotel reservation or invitation directly from your business colleagues. When the conversation with the border guard service you may need evidence of your pay.
Customs regulations
In Israel there are no restrictions on the import of currency. However, if you decide to bring gifts or food, you know that the country can be imported duty-free:
1 litre of spirits and 2 litres of wine;
250 g of tobacco products;
250 ml perfume;
3 kg of food (if the weight of each product is not more than 1 kg);
gifts up to a value not more than 200 $.
If you bring items that need to be declared, you will have to pay the tax, which will return to you back when leaving the country.
By prior agreement allowed the import of plants, animals, and weapons which you need to have the relevant documents.
For the importation of Pets (cats and dogs) to require a certificate of vaccination against rabies (for 30 days, but not more than 1 year prior to entry). Prohibited the importation of animals under the age of 3 months.
Upon departure from Israel, you will need to submit a copy of the immigration card that you received when entering the country.
If, during your visit, you will get any ancient wonder, know that the date of manufacture shall not be earlier than 1700. Otherwise, she will not leave the country. Therefore, obey the laws, and all will be well!
Embassy of Israel in Ukraine
01901, Kiev, Ukraine Lesya Ukrainka Boulevard, 34
Tel: 380-44-586-15-00
Fax: 380-44-586-15-56
Email: info@kiev.mfa.gov.il
Attention!
The documents submitted to the Embassy by e-mail will not be considered.
Reception hours
Embassy:
Monday – Thursday 9: 00 – 17: 00
Friday 9: 00 – 14-00
Consulate:
Monday – Wednesday 09: 30 – 13: 30
Thursday 9: 30 – 12: 30
Friday 9: 30 – 10: 30
The repatriation Department:
Making an appointment over the phone (Monday-Thursday from 15.00 to 17.00, Friday from 9-00 till 14-00) :
380-44-2849735/44
380-50-4148180